Ask any Questions to Ce Ce! Got Questions? You can ask Ce Ce questions about personal growth, sex, religion, spirituality, health, politics, relationships, friendships and entertainment, movies and music. Feel free to ask Ce Ce questions on whatever your heart desires. She has a fun, yet practical way of giving advice and solutions. – Read Ce Ce's Answers
You're invited to ask your questions in the form below.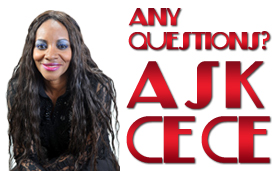 What is your question for Ce Ce?
---